Office of the University Registrar
Department Information
Updating Undergraduate Department Information
Undergraduate department information in UW CM publishes in both the general catalog and MyPlan, so it is important to keep this information up-to-date. To change department information in UW CM, a change proposal must be submitted in UW CM.
Step 1: Log into UW CM
Log into UW CM using your UW NetID and password. If you experience issues, please contact the UW Curriculum Office.
Step 2: Find your department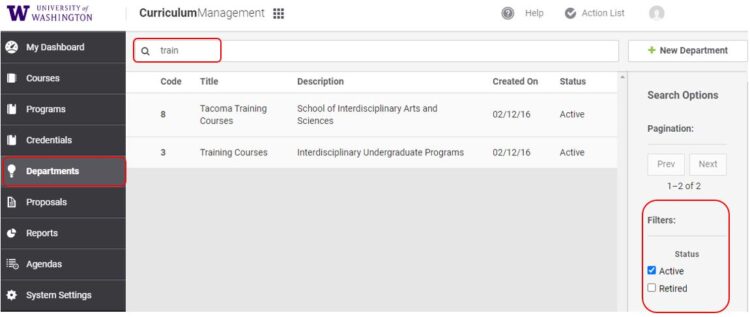 Select 'Department' on the left navigation panel. Under 'Filters', make sure the 'Active' checkbox is clicked. Type the department name in the search bar to find the department.
Step 3: Propose a change
To propose a department information change, click the 'Propose Changes' button
Step 4: Update the appropriate sections
Sections include General Information, Catalog Information (for instance, student outcomes and opportunities), General Contact Information, and Program Contact Information.
Step 5: Select 'Save and Exit' to save the proposal
Step 6: Review proposal and then select 'Submit for Approval'
Review your proposed changes before submitting the proposal to the workflow.