Office of the University Registrar
Distance Learning
In this quick guide
Add a DL designation to a new course
Add a DL designation to an existing course
---

A course or sections of a course in which students can participate fully without being physically present on campus must be designated as a distance learning (DL) course or section. You can propose to add a DL designation* via a new or course change proposal.
*For Seattle and Bothell campuses only. For Tacoma DL classes, please consult your campus curriculum committee for guidelines.
Add a DL Designation to an Existing Course
Step 1. Log into UW CM
Log into UW CM using your UW NetID and password. If you experience issues, please contact the UW Curriculum Office at uwcr@uw.edu.
Step 2. Find your course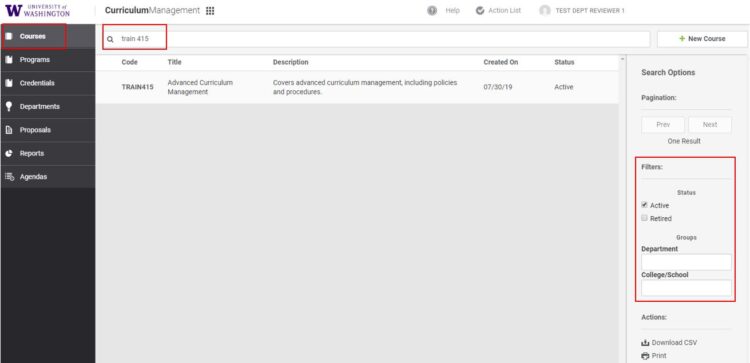 Select 'Courses' on the left navigation panel. Under 'Filters', make sure the 'Active' checkbox is clicked. Type the course prefix and number or the title in the search bar to find your course. You can further narrow the search results with the department or college/school filters. Select your course in the results section.
Step 3. Propose to add a DL designation
To propose a distance learning designation, click the 'Propose Changes' button.


Step 4. Propose a first effective quarter/year
Step 5. Check the "This is a proposal to add Distance Learning designation to the course" box
Step 6. Complete the DL section
Online Instructional and Additional Hours: Specify the breakdown of the course and manually total up the weekly hours in the TOTAL section.
Delivery: Specify the means of content delivery used in the distance learning portions of the course.
Pace: Specify whether the pace of the DL course is synchronous (students work through the material at the same, pre-determined pace) or asynchronous (students work through material at their own pace)
Outcomes: If this DL course is also being offered as a separate version in the classroom, please describe how the DL and in-classroom instructor will coordinate expected learning outcomes, examinations and grading.
Exams: How will examinations be administered securely? Specify safeguards for academic integrity.
Feedback: Specify and describe how students will receive feedback throughout the course and how student learning will be assessed.
Student Interaction: How will students interact with the instructor and other students? Will there be any face-to-face meetings with the instructor and other students?
Step 7. Provide evaluation details for both the DL course version and the in-classroom course version, if both are planned
Complete the evaluation details section.

Step 8: Attach a syllabus for the DL course version as well as the in-classroom course version syllabus, if both are planned
Attach syllabi in the supporting documents section.

Step 9. Review proposed changes and then select 'Submit for Approval'
Review your proposed changes before submitting the proposal into the workflow. Your proposed changes will appear in yellow above the existing content (in blue).