Office of the University Registrar
Submitting Other Changes
Submitting Other Changes (Catalog Copy/Overview) in UW CM
Program and credential overview changes, and catalog copy changes not requiring university approval, may be submitted in UW CM without having to go through the full approval workflow.
Step 1: Log into UW CM
Log into UW CM using your UW NetID and password. If you experience issues, please contact the UW Curriculum Office at uwcr@uw.edu.
Step 2: Find your program or credential

Select 'Programs' or 'Credentials' on the left navigation panel. Under 'Filters', make sure the 'Active' checkbox is clicked. Type either the program name, program code, credential name or credential code in the search bar to find the program or credential. You can further narrow the search results with the department or college/school filters. Select your program or credential in the results section.
Step 3: Propose a Program or Credential Change
To propose a program or credential change, click the 'Propose Changes' button


Step 4: Complete the appropriate proposal sections
Complete the appropriate sections depending on the form submitted (program or credential). When completing the Proposal Information section, make sure to choose the Other Changes (Catalog Copy/Overview) workflow.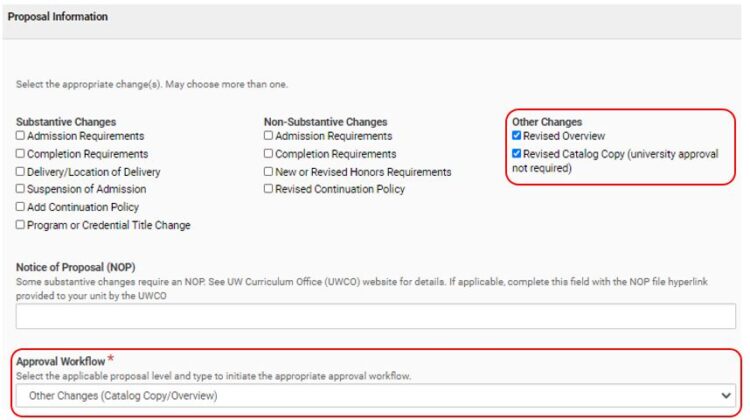 Step 5: Select 'Save and Exit' to save the proposal
Step 6: Review proposal and then select 'Submit for Approval'
Review your proposed changes before submitting the proposal into the workflow.