Office of the University Registrar
Validation Instructions
A CeDiploma can be validated online one of two ways:
1. Diploma Validation
Where to Validate: Visit the UW CeDiploma Validation Portal
What is Required: The 12-digit CeDiD found in the upper corner of the CeDiploma, along with the first two letters of the name as it appears on the Diploma.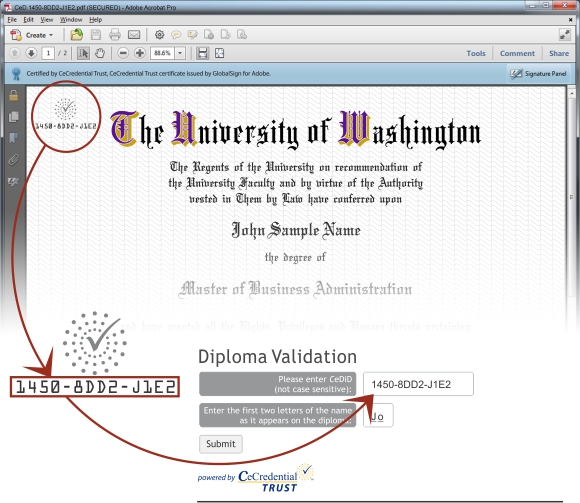 2. Digital Signature
All CeDiplomas from the University of Washington are digitally signed by CeCredential Trust. When the document is viewed through Adobe Reader or Acrobat versions 9.0 or higher, it will reveal that a Digital Signature has been applied to the document.
Adobe Reader and Acrobat use a blue ribbon across the top of the document to indicate document has not been tampered with, and is therefore authentic.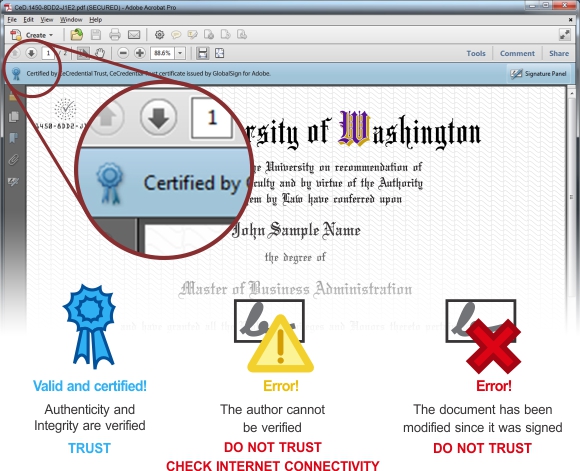 Attention Mac users: When viewing an official electronic diploma from the University of Washington, the software utilizes Adobe's secure certified PDF technology and therefore may only be viewed using the free Adobe Reader or Adobe Acrobat 9.0 or higher. The default Mac preview application will not display the document correctly.
Questions or Concerns
For further questions or additional help, please email registra@uw.edu. All inquiries must provide the CeDiD number and name of the alum as it appears on the CeDiploma.